Proven technology Philips for Phototherapy treatment.
Clinical studies around the world have shown that Philips Phototherapy lamps are the most effective lamps currently available for the treatment of Psoriasis, Vitiligo and other skin diseases.
It's not currently known, who the first doctor to use UVB light to cure skin disease was, but phototherapy has become extremely popular in the last ten to twenty years. Most clinics and hospitals have bought UVB-emitting devices like an UVB narrowband lamp or even established rooms with UVB booths that treat the whole body simultaneously. This kind of therapy is proven to be effective yet really simple and economical. Rays of different wavelengths have different influence on the skin. Some of them are even dangerous, that's why the scientists had to isolate the light with the most beneficial effect. UVB rays were proven to cure certain skin diseases by retarding affected cells or stimulating cellular regeneration.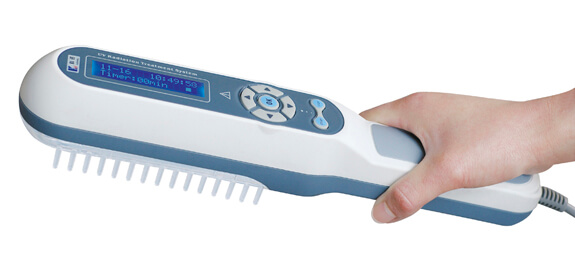 Contact Us for More Info
Read Treatment Info
Order UVB Lamp Online
Specialized skin treatment centers have gone even farther, forcing UVB lamp suppliers to invent even more sophisticated devices. Some of them work like a personal electronic doctor with all the scheduling, skin scanning and treatment itself. Yet, with all the high-end circuitry and machinery, the basic principle of UVB phototherapy has remained the same – transition of certain energy from the light to the skin cells.
This fact has allowed millions of people to apply UVB home phototherapy without any costly visits to the hospital. UVB lamps for psoriasis and vitiligo, neurodermatitis, eczema and lichen are available and affordable to everyone now. You can literally cure yourself while spending several minutes a day.
The best exposure time for any kind of skin is between 1- 10 minutes, that's why everyday treatment won't take more than brushing your teeth or taking out the trash.
Once you've achieved the desired effect, you'll only have to apply UVB therapy once a week or even less, just to maintain the healthy state of your skin.
Once you've acquired a UVB lamp for vitiligo or psoriasis, you'll forget about your disease and live the life you've always wanted to live.
Statistical data is usually very inaccurate, but when such information comes from all the major medical centers, you can't just ignore it. It's a fact that 92.4% of all the UVB patients got better after two weeks of treatment. There's no pill or shot this effective against skin disease.
The same goes for domestic lamp users – when you start using UVB home phototherapy psoriasis just retreats and stays at bay. It's not a magic pill or a panacea – just a product of pure scientific thought and medical progress.
As you can see, UVB home therapy is:
Convenient
Efficient
Economical
Easy to use
Affordable
There are absolutely no disadvantages in this treatment method, that's why you won't find anyone dissatisfied or disappointed with it.
If you have skin problems – it's time to make the right decision and discover the therapy you need.
Contact Us for More Info
Treatment Info
Order UVB Lamp Online