Innovations and studies of narrow-band therapy 2019
Narrow-band therapy or NB-UVB is widely used in treatment of skin diseases such as psoriasis, atopic eczema, vitiligo, cutaneous T-cell lymphoma (CTCL), and various types of photodermatosis. NB-UVB is a safe, economical and effective method of treatment that can be used not only in clinics, but also at home. In this article we will talk about the benefits of using narrow-band therapy.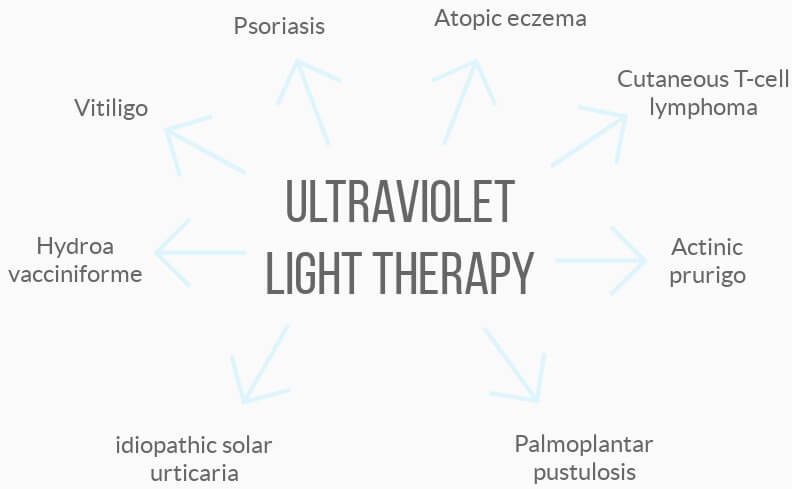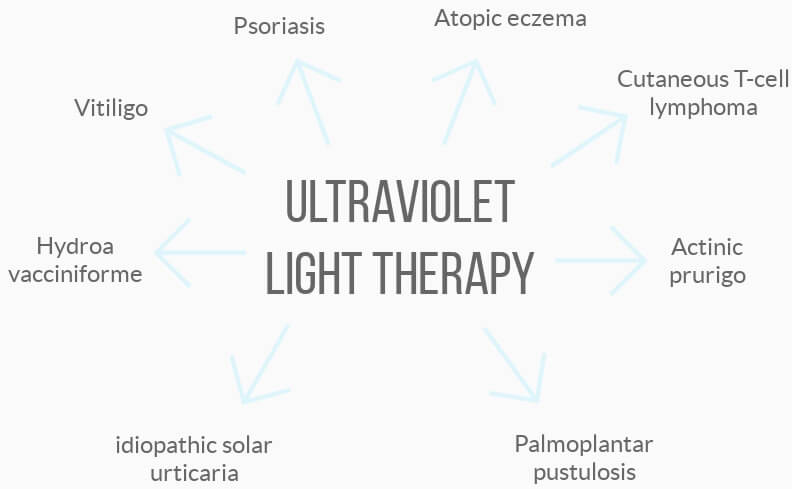 Psoriasis
In 2004 British scientists published a study, showing that the main indication for NB-UVB therapy is psoriasis. This method of treatment is effective and safe for the patient. It can be successfully used to treat aggravations in pregnant women and children.
Several factors need to be taken under consideration for the best effect of the therapy. According to the 2006 study the recovery rate directly depends on the patient's skin type and the right amount and frequency of procedures. Individual parameters are important for using narrow-band therapy for each patient, which includes type and stage of disease, place of residence of the patient etc.
Eczema
In 2015, a group of British scientists published studies on the effectiveness of using narrow-band therapy in the treatment of atopic and other types of eczema, especially on the early stages.
A team of scientists in 2014 presented the study, which involved more than 900 patients. The results suggest that NB-UVB and PUVA are among the most effective methods for treating eczema today.
After comparing NB-UVB and PUVA in 2000, it was discovered that both methods of treatment are equally effective in severe atopic eczema types without a significant difference in the rates. In this case, PUVA is less convenient for patients, since the treatment requires staying at the hospital. The devices that emit the required wavelength for NB-UVB therapy can be used at home.
In 2007, the studies demonstrated the effectiveness and safety of using narrow-band therapy for the treatment of eczema in children.
At the same time, new scientific studies of NB-UVB are still needed to fully understand how effective this therapy can be from the medical point of view.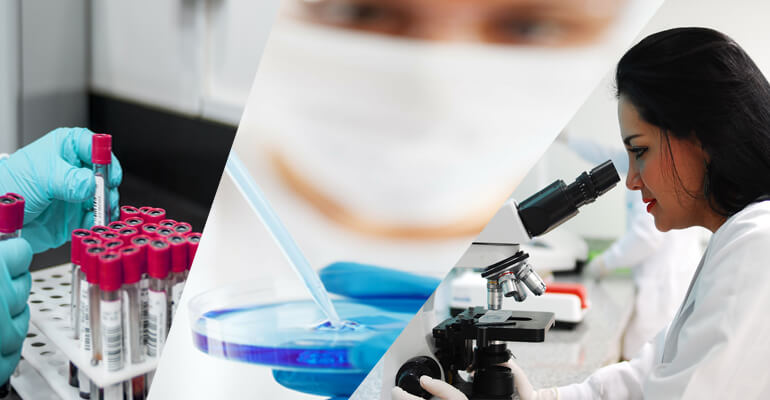 Vitiligo
In May 2007, it was shown that NB-UVB is more effective compared to PUVA in the treatment of vitiligo. The studies were conducted on patients suffering from non-segmented vitiligo. However, it can't be said that PUVA is ineffective either. In some cases, if there is no response from NB-UVB therapy, PUVA is a fairly effective and promising substitute that shows excellent results.
T-cell lymphoma (CTCL)
In May 2018, new data demonstrated the result proving that both NB-UVB therapy and PUVA are effective for the treatment of the disease. NB-UVB is effective for the treatment of early stages of CTCL.
So far it remains unclear how to limit the natural progression of the disease. In 2018, it was suggested that with intensive CTCL therapy, the tumor develops more slowly, and overall the recovery rates were improved in those who used phototherapy at the early stages. Although, this retrospective data should be interpreted considering the severity of the effect.
Phototherapy and dermatitis
Unfortunately, this group of diseases doesn't have the evidence regarding to the use of NB-UVB and PUVA. However, comparative studies that took place in 1999 show equivalent efficacy for treating dermatitis with NB-UVB and PUVA therapies.
Studies conducted in 1995 prove that NB-UVB and PUVA therapies can be effective for a number of skin diseases including hydroa vacciniforme, erythropoietic protoporphyria, actinic prurigo, and idiopathic solar urticaria.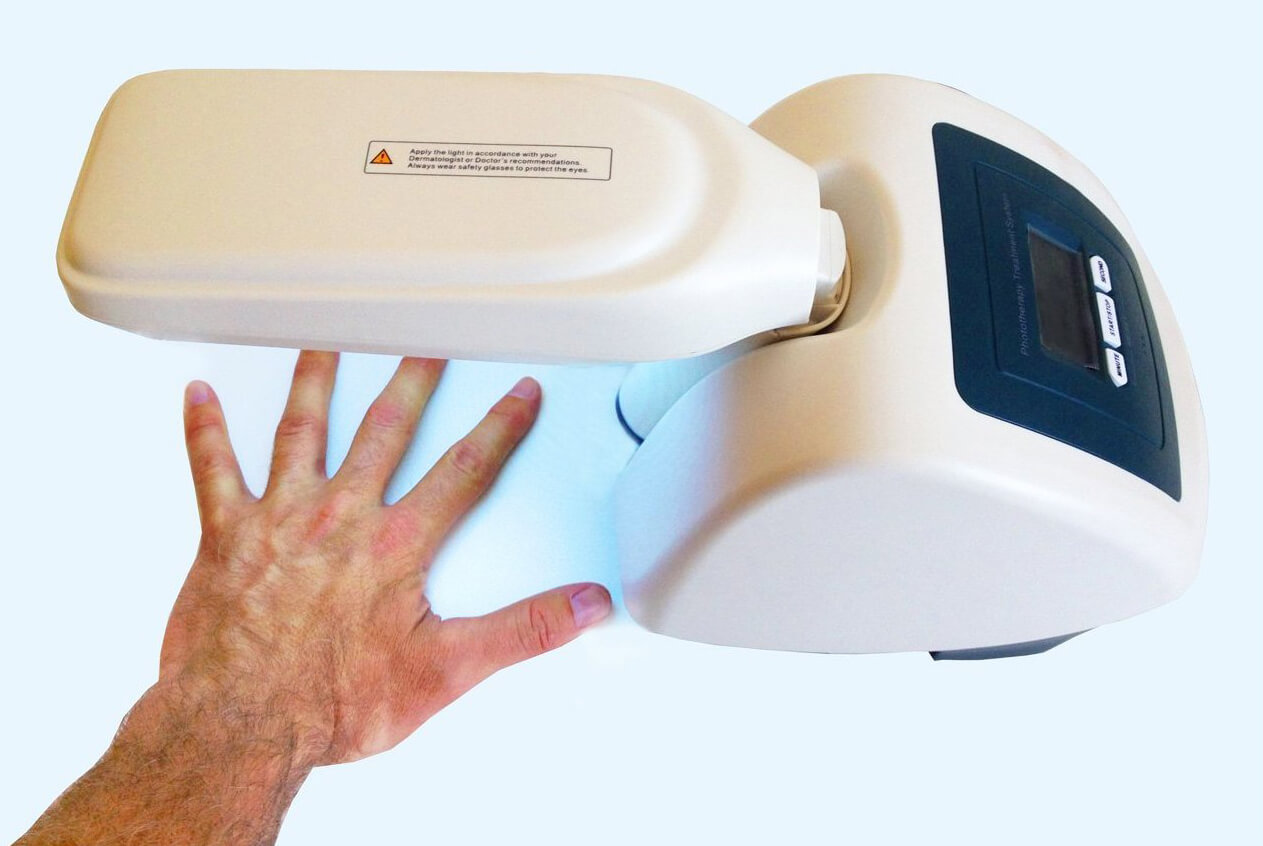 Localized feet and hands dermatitis
This is a large group of diseases, which include hyperkeratotic eczema, psoriasis, psoriasiform dermatitis, palmoplantar pustulosis and others. In 2014, studies confirmed the effectiveness in the treatment of localized foot and hand dermatitis.
Other studies
A new publication providing the evidence of the effectiveness of the urticaria treatment with NB-UVB and PUVA was presented in 2012. The study detected better results from PUVA therapy compared to the treatment with NB-UVB.
The research data from 2017 demonstrated the advantage of NB-UVB over PUVA therapy in the treatment of urticaria. The authors recommend considering narrow-band therapy in case when traditional treatment with antihistamine drugs doesn't help.
Conclusions
It is already a well known fact that phototherapeutic methods can be the most effective and safe treatment option for a group of complicated skin diseases. This therapy is available in many clinics around the world. The devices for home treatment with NB-UVB can be also found on the market today. According to the research, a particularly good result can be achieved on the early stages of the disease.
It is important to understand that there are general requirements for effective treatment with light therapy. During therapy, it is recommended to use drugs that block the production of histamine. It is very important to consider age, skin type, type and stage of the disease, and to conduct a test for photosensitivity. Only a doctor can establish the duration of treatment, as well as the duration and amount of exposure.
Posted: May 28, 2019 by UVB-lamps Team

1,295
Here's your chance to leave a comment!