Nutrition and Eczema: Triggers That You Should Know About
Eczema is a chronic skin disease, aggravated by the presence of certain factors. You should take into consideration some products before including them in your diet.
40% of the adult population and 30% of children around the world are diagnosed with eczema.
Food as a trigger
The development of eczema depends on a number of factors that influence and determine the type of disease:
atopic form;
microbial form;
seborrheic form;
dyshidrotic (characterized by a certain localization of the upper and lower extremities);
allergic contact type;
children's eczema.
Eczema is a dermatological disease caused by an immune system disorder that occurs most often under the influence of triggers, rather than allergens. This fact explains the development of inflammatory processes of the skin. However, some specialists insist that allergens can also cause eczema together with immune system disorders. At the same time, the relapse of the disease is associated with foods which trigger the symptoms.
Dr.Talbot was the first doctor to note that patient's skin improved when they removed eggs from their diet. He described his discovery in 1918.
Period of aggravation
Immunoregulatory disorders can occur under the influence of certain food triggers. This connection has been proven through multiple clinical and laboratory studies. Research has shown several interesting facts: an increased release of allergic inflammation, an elevated level of histamine in the blood plasma, activation of eosinophils, and an active release of the cytotoxin.
T-cells, which are responsible for blood flow to the inflamed area, were found in eczema affected skin areas. The symptoms and conditions improved after adjusting the diet.
Studies confirmed a leading role of food allergens in the development of the disease. Certain products can be the main triggers of eczema.
The symptoms are classified as:
Local, which include polymorphic rash, hyperemia, edema, exudation, itching, and pain;
General – decreased appetite, sleep problems, irritability, etc.
This period of aggravation can last from a few weeks to several months. The risk of serious complications and a long relapse is higher if the dangerous factors were not avoided.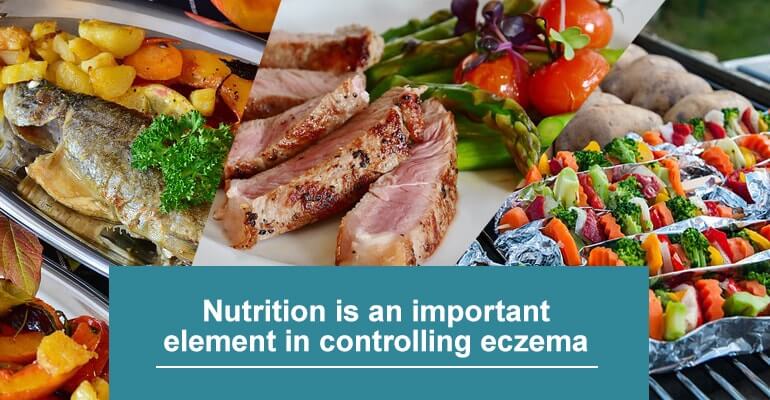 Diet
Nutrition is one of the key factors in the treatment of eczema. It is recommended to exclude foods that cause relapse or complications during periods of aggravation and remission. Usually, they are:
citrus fruits and exotic fruits;
chocolate, honey;
cocoa, black tea, coffee;
red vegetables and fruits;
spices, herbs;
fatty fish or meat ;
pickles, marinades;
smoked meat, sausages, canned food, etc.
It is necessary to change cooking methods and exclude fried, spicy food. Prefer seasonal local vegetables and fruits to imported ones which are processed with special substances that can trigger the development of eczema.
According to specialists, fasting can provide a positive effect during the relapse. However, this method may be applicable only after consulting a doctor because of possible complications in patients with diseases in the gastrointestinal tract, hematopoietic system, etc.
What can you eat?
Many patients are depressed by the fact that they have to give up their favorite foods. However, you can use a substitute that replaces a favorite flavor but won't be harmful and will speed up the remission.
| Prohibited foods | Recommended foods |
| --- | --- |
| Sausages | Baked chicken, turkey, veal |
| Gelatin | Agar-agar |
| Sugar | Fructose |
| Manufactured yogurt, milk | Homemade yogurt, kefir, cottage cheese, fermented baked milk |
| Red vegetable | Green, yellow vegetables, greens |
| Mayonnaise | Dressing (for example, lemon juice + olive oil + mustard) |
| Chocolate | White chocolate |
| Black tea, coffee | Green tea |
You should also pay attention to several more important aspects of your diet during eczema aggravation:
the prevalence of proteins in the diet will speed up the healing process and recovery period;
use more sour-milk products, which will improve gut flora and strengthen immunity;
reduce the number of simple carbs and replace them with complex ones;
drink more water to prevent dryness of the skin.
It is necessary to adjust your nutrition according to your symptoms. Create a food diary where you will indicate all the changes after consuming different foods. This method will help you to identify the trigger and exclude it from your diet, preventing the development of aggravation.
Posted: August 9, 2018 by Rachel Snow

3,223